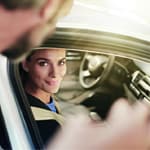 If you're hoping to save some money by purchasing a pre-owned car, the good news is that there are plenty of great used cars available in Greenville, MI. To help you separate the great used cars from the ones that are merely marginal, here are a few tips from Trevor Merren Auto.
First, when inspecting the exterior of the vehicle, always look for any signs of rust. Rust doesn't necessarily have to be a deal-breaker, but it is important to understand the extent of the rust. Also, if you notice rust in multiple places on a vehicle, there's a good chance it's not worth your time.
Additionally, you should check around the hood, trunk, and doors for any signs of paint overspray. If you notice paint overspray, there's a good chance that the vehicle you're looking at has undergone major repairs at some point and may not be structurally sound. Check the vehicle history report to see if there are any mentions of an accident before moving forward.