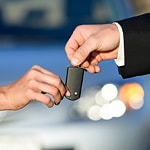 Trading or refinancing your vehicle is one of life's small-big decisions that pop up routinely. Fortunately, our Greenville, MI Trevor Merren Auto team hears this question frequently on our sales floor. Here's our quick, easy advice.
When to Trade-In?
If you've had a good run with your current vehicle and are in the market for a new one, trade it in. Trade-in value varies vastly according to make, model, and vehicle condition. Dealers like us also consider how fast we can sell a vehicle or how popular it is in general. We also consult authoritative resources, such as KBB and NADA. Trade-in your vehicle when you're ready to purchase a new one.
When to Refinance
You love the vehicle you're currently driving, but you want to lower your interest payment, refinance it. You can refinance with the same lender or a new lender. Refinancing can save you thousands. It allows you to renegotiate your loan interest rates, APR, and overall monthly payments.