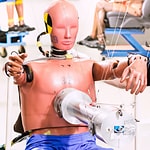 A vehicle's safety rating provides you with a lot of information about how your car would perform in different crashes. For example, the National Highway Traffic Safety Administration uses several collision tests to see if a vehicle falls apart or protects the driver and passengers. The NHTSA provides a rating from 1 to 5, with 5 being the absolute best performance.
You can look up all the crash test scores for most vehicles. However, manufacturers don't have to get a vehicle safety rating. That's why it's so important to look up these ratings before you purchase a car. The Insurance Institute for Highway Safety is another vehicle safety rating organization that uses poor to good ratings to determine if cars are safe.
Safety ratings can give you information about how safe a vehicle would be to drive. Some vehicles do not perform well in frontal collision tests, which would have lower ratings. However, other vehicles don't have a lot of driver assistance ratings, which would only lower their ratings a little if the car performs well in collision tests. Want to see the latest lineup of safe vehicles? Stop by Trevor Merren Auto today for a test drive in Ionia, MI.