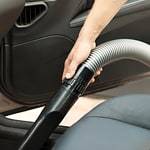 In-between detailing service, Greenville, MI drivers often have a hard time keeping their auto interiors clean. This is especially true for pet owners who regularly travel with their animal companions in tow. At Trevor Merren Auto, we're sharing several simple tips for controlling pet hair in your vehicle.
Start With Prevention
The best way to limit massive accumulations of pet hair in your car is to prevent them. Brush your pet regularly to collect loose, stray hairs before they wind up on your upholstery or carpeting. Containment is also key. Always travel with a pet harness, pet car seat, or a suitably large crate. Consistently keeping your cat or dog in one area of the vehicle can make a huge difference. If you place your pet's crate in the rear of your vehicle, you can additionally invest in a cargo liner.
Use Dryer Sheets to Collect the Hairs You Can See
Damp dryer sheets are great for collecting stray pet hairs. They also leave treated surfaces smelling clean and fresh. Keep a box of dryer sheets and a small spray bottle of water in your car to quickly freshen things up.
Call Up Hidden or Trapped Hairs With Compressed Air
Pet hairs seem to find their way into even the tightest of spaces. Long after you've brushed, vacuumed, or use dryer sheets to perform a quick, surface clean, you'll likely still find pet hairs in-between your seats or embedded in the carpeting. If you do, use a can of compressed air to spray these spaces. This will call trapped hairs up to the surface where they can be picked up or wiped away.