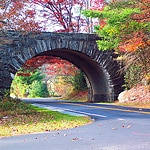 Leaf-peeping can be as simple as pulling over during your drive home to snap photos of some, especially colorful trees. However, many Greenville, MI locals are making these trips all-day adventures that include multiple destinations, countless photos, and appreciation of many different types of foliage. At Trevor Merren Auto, we want to share some strategies for getting the most from these experiences.
Time Your Trip Wisely
Going during midday on a weekend could leave you stuck in a surprising amount of traffic. It can also leave you with few opportunities to safely pull off and explore. Seasoned leaf-peepers typically head out early. The roads are less crowded during the morning hours, and quickly pulling to the side is often much easier. Morning leaf-peeping adventures will give you the chance to watch the sunlight gradually move across the terrain and to see the different colors of tree leaves in different levels of lighting.
Follow the Rules
Never pull off illegally or in any area that might hinder other drivers, or put you and your group at risk. It's actually best to scout out a few hiking areas with nearby parking lots instead. This way, you can park safely, and can thoroughly explore natural autumn displays worry-free.