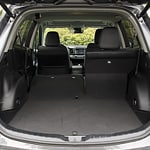 Greenville, MI drivers appreciate good value. That's why we strive to provide an assortment of quality, reliable vehicles in our inventory. One of the most popular body types on our lot is the crossover. Read on to see why you may want to buy a crossover for your next car purchase.
Crossovers offer the benefits of both cars and SUVs. They're built on a car foundation. Therefore, they ride more like a sedan than an SUV. You'll get a smooth, quiet ride that's able to take on the curves and zip through busy streets with ease. What you also get is tons of room for passengers and cargo. Crossovers sit up higher than cars do, so you'll have plenty of visibility to see the road ahead of you.
You can expect to pay less for a crossover than you would for larger vehicles like trucks and SUVs. In addition, you'll see savings at the pump because you'll get better fuel efficiency.