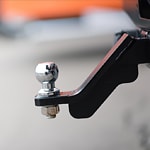 Planning on a camping trip? Our team at Trevor Merren Auto in Ionia and Greenville, MI want to ensure that your time is as safe and enjoyable as possible.
The first thing to check is that your vehicle's hitch is able to link with the trailer's hitch. Otherwise, you won't be able to tow the trailer!
Check your camper's tires have enough tread, are not dry rotted, and are properly inflated. Ensure that you are keeping up with your vehicle's maintenance because the camper will put additional wear on your vehicle. Check your brakes, make sure your oil is fairly fresh, keep your engine's coolant topped off, and your transmission fluid should be full.
Make sure that you have a set of wheel chocks on hand. This is what keeps your trailer from rolling away, especially when the trailer is released from the truck.
You should also ensure that your trailer's lights work, as this is what will serve as your turn signal while driving.
Once you've ensured that your vehicle is ready, then there's only one thing to remember: Have a great trip!